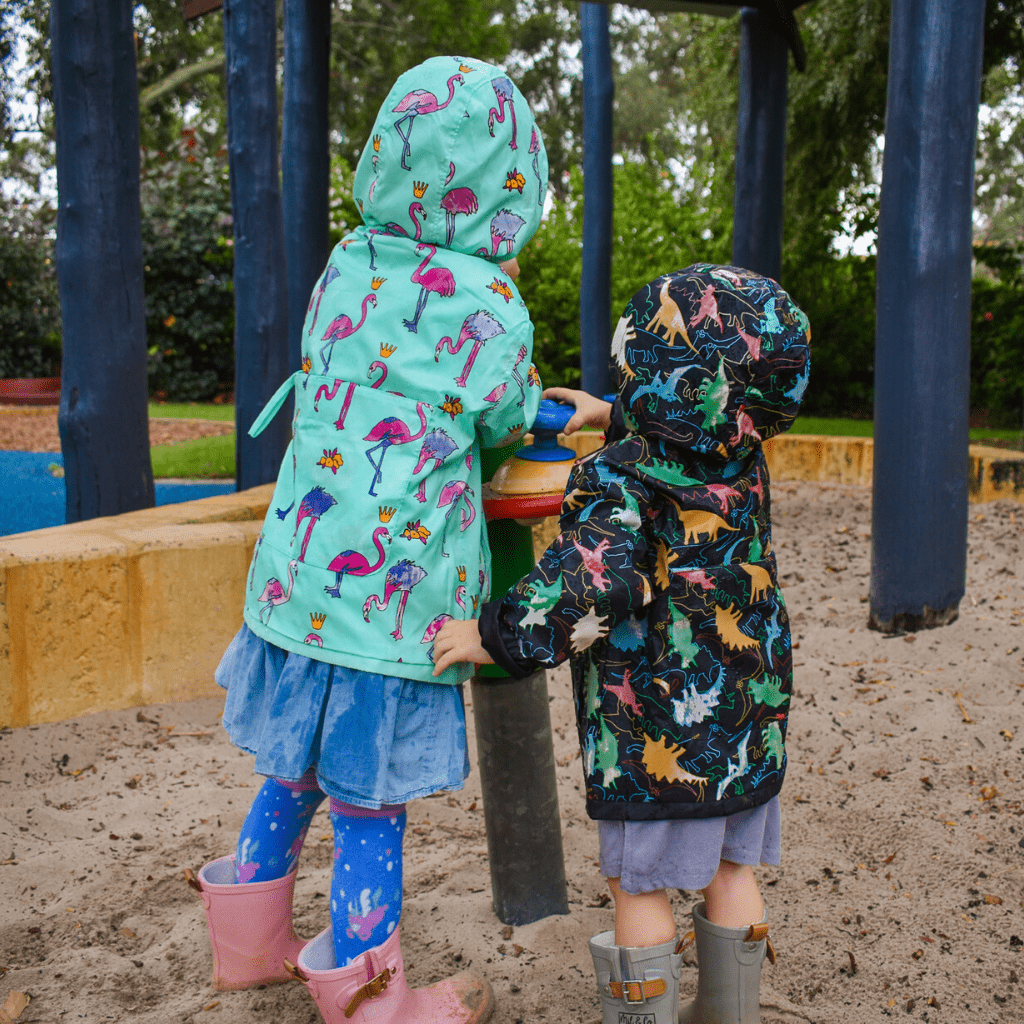 Colour Changing Raincoats
Colour changing raincoats from Upper Notch Club
Most people including us, avoid going out in the rain and if we
have to we make a run for it.
Not any more!
This fun colour changing raincoat has us excited for the rain.
We have actually been waiting for the rain and when it comes we go running out the door to see the colour appear on these rain jackets.
The kids think it's magic.
Upper Notch Club is an Australian small business sourcing quality products from around the world from other small businesses.

Not only do they sell rain wear for children but they have a wide range of unique outdoor products from picnic tables to whole family matching swimwear (the swimwear is super cute, they are next on my list), even matching active wear.

The Upper Notch Club team have so kindly offered a discount for my followers on their ENTIRE range of products.
Use code Nicole10 at check out.
Kids love getting outdoors and exploring.
Sometimes it can seem harder in winter to get the motivation and get out, but trust me it will do yourself and the kids a world of good and everyone will sleep better at night.
As I'm writing this with the COVID-19 happening and the advice is to stay at home and avoid social events.
This is the time to think outside the square, yes do indoor activities and play in your garden but sometimes you just need a little more freedom.
Yesterday afternoon we had been locked inside all day and needed fresh air. We decided to go somewhere, where the kids could run free and not be at a crowded playground, it was raining and dinner time which made it even quieter. We went for a stroll through the bush and just let the kids explore plus we (parents) had a good walk too.

What I am trying to say is that, yes we are nearing a lock down period but just think outside the square when needing that fresh air. Go out when everyone else is in, go places that people usually don't go and go when it's raining as people usually don't go out. Now with your new raincoats,
there is no more fear of rain:)
Honest Product Review
When these Raincoats arrived I was impressed by the quality.
Initially I was a little shocked at the price when I looked online but once I had the raincoats in my hands I could understand why.
Talking about the price I have to mention that I did search for the raincoats on the actual brand's website Holly and Beau and at first I saw the price was a lot less but soon realized it was in US Dollars so once you add shipping it works out to be the same price.

The quality is next level to your cheap supermarket raincoats.
The fabric is 100% waterproof and PVC free.
The raincoats are lined on the inside, have pockets on both sides which my kids love to hide all their little treasures from our adventures.

The raincoats come folded in a perfect travel size pouch which is actually attached to the coat. Once fully dried you can fold back into the pouch then either hang at the front door, leave in the car or pack away in a draw. Perfect size to take with you on the go and when getting caught in the rain.

The sizing is a little big which is great as the kids can grow into them and they will get two or more winters out of the one size.
The price seems not so bad now when getting two of more winters
out of the one jacket.
I recommend still size as normal and just roll the sleeves up a little.

I honestly don't have anything bad to say about them.
There are a heap of styles to choose from including a cute unisex dog one which you can hand down to opposite sex siblings etc.

The first thing I think about when looking at these raincoats is the face of the kids when they see it change colour, which makes it worth every dollar.
Thank you so much for reading and I hope you enjoyed it.
As always if you have any questions please comment below or feel free to contact my via email or my socials.
Stay safe, healthy and let's look out for each other at these times and remember to always be kind.
To read the original review please follow the link to the blog here