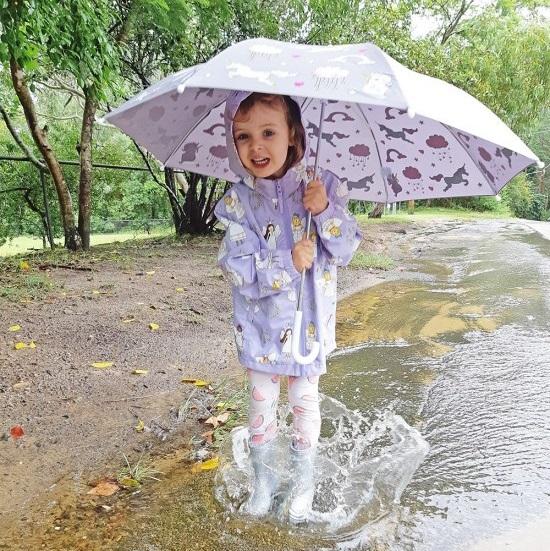 Feature in the Babyvine Blog
Upper Notch Club Feature in Babyvine Blog
Kids Raincoat
Finding The Perfect Kids Raincoat And Kids Umbrella For Outdoor Time.
I don't know what it is about toddlers and jumping in puddles. Cassie just hates been inside, so when we get hit with the rainy weather, cabin fever sets in really fast. Rain doesn't matter in the slightest to her, in fact, it just makes the outdoors adventures that much more fun! But of course, I don't want to send her out only to get soaked in minutes and end up sick, so I went on the hunt for a great kids raincoat.
When I came across the gorgeous selection at Upper Notch Club, I knew I wouldn't be able to resist. The deciding factor? Their kids umbrellas and kids raincoats actually change colour when they get wet! How amazing is that. I think I was possibly more excited than Cassie about this, until she went out in the rain and watched it happen before her eyes.
Kids Rain Jackets
The pack away raincoat from Holly & Beau stands out thanks to this colour-changing technology, but it also has plenty of other great features to keep your little one protected. 
It is nice and lightweight, so even on warmer rainy days kids will be all too happy to wear them.
The fabric is nice and breathable.
There is a hood! Perfect for keeping hair dry and faces protected.
There is a handy pouch at the back that allows you to fold the raincoat back into itself for easy storage.
UV protection factor of 30+
Did I mention it changes colour? Once it is dry, it changes back to the original colour, which means you know when it is ready to be packed away again!
Plus, there are plenty of amazing colours and designs to choose from.
The boys raincoat range includes: dinosaurs, pirates, dogs, monsters and cars.
The girls raincoat range includes: unicorns, cupcakes, flamingos and carousels.
Of course girls and boys can wear whatever designs they choose!
Kids Umbrella
What else do you need for some fun out in the rain? An umbrella of course. Cassie has been obsessed with umbrella's for as long as I can remember and we have been through a few children's umbrellas in that time. Most barely even last a week with us. I am not going to lie, she isn't the most gentle when it comes to playing with them AND she insists on being the one to open and close it, but it is still always so disappointing when they don't last the distance.
This toddler umbrella from Holly & Beau is still going the distance. It has the same colour changing technology, making it super fun, plus it is nice and sturdy too.
Some of the other great features include:
Length (handle to tip) – 62cm, width of handle – 7.5cm, width when open – 84cm, weight – 220grams.
Easy-to-use opening mechanism (Cassie has had no issues, and as I mentioned, it hasn't broken, woo!
Lightweight.
UPF (Ultraviolet Protection Factor) of 3.
There's no excuses for us to not head out and play in the rain now. Cassie won't even let a storm stop her (don't worry, I do!). I think these items are going to be getting a good workout over the next few months…
---
Find out more about them over at Upper Notch Club. Click here. You can also use the code Babyvine10 for 10% off your order!
---